Wine, grappa and more
Piedmont boasts 44 DOC (Denomination of Controlled Origin) and 12 DOCG (Denomination of Origin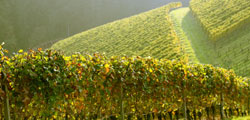 Controlled and Guaranteed) and holds it with 80% of the production of only DOC and DOCG in Italy. Viticulture in Piedmont prefers hilly areas. There are two wine districts: the district Langhe, Roero and Monferrato, covering the three provinces of Asti, Alessandria and Cuneo, and the District of Canavese, Coste della Sesia and hills of Novara, which includes the provinces of Biella, Novara , Turin, Vercelli and Verbano-Cusio-Ossola.
In the first district are produced: Arneis, Barbera, Brachetto, Dolcetto, Freisa and Pelaverga.
The second district boasts 2 DOCG, Gattinara and Ghemme, and 11 DOC, Boca, Bramaterra, Canavese, Carema, Colline Novarese, Coste del Sesia, ERBALUCE of Caluso, Fara, lesson, Sizzano and Valsusa.
Langhe, Monferrato and Canavese produce wines of world renown. Piedmont is also the birthplace of sparkling wine: the most famous is that of Asti, from Muscat grapes.
In addition to these districts is the Royal Road of the wines Turin. Includes a path to the places in the Turin area along 600 km that runs through much of the Canavese, in the hills around Turin, Pinerolo and the Val Susa. The route also leads to the royal residences, declared "World Heritage" by 'UNESCO.

Below is a list of the most known:
From Barbera grapes are obtained, depending on the area of origin: Barabera d'Asti, Alba, Monferrato, Colli Tortonesi Barbera.
From the Nebbiolo grape variety you have: Barolo, Barbaresco, but also the Nebbiolo d'Alba and Roero, Gattinara, Ghemme and Carena.
Dolcetto.
Brachetto.
Grignolino.
Freisa.
Moscato d'Asti.
Ruch.
Malvasia Casorzo d'Asti dessert wine.
Asti Spumante.
Grappa.
Vermouth, invented in Turin in 1786 by Antonio Benedetto Carpano.
Martini.