Mountain and sport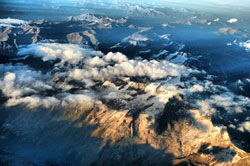 Mountains cover 43% of the Piedmont, the almost completely surround and divide the region from France and Switzerland. The region seems to derive its name from the mountains - to pedes montium, "at the foot of the mountain."
Piedmont is the only Italian region enclosed by an outer ring of mountains and plains of the median arc that encloses within it suggestive, sinuous hills (Monferrato, Langhe, etc..).
The peaks, high over 3000 meters, surrounding valleys of extraordinary beauty. It is no coincidence that the region was the seat of the 2006 Winter Olympics.
Monte Viso, from which comes the Po, Piedmont dominate the Western Alps. To the south, in the Cuneo, is the massive Rocciamelone the Alps and begin shipping around the massive dell'Argentera. To the west stands the Gran Paradiso with its 4061 meters, with glaciers and peaks of the pioneers mountaineering. Further north stands the imposing Monte Rosa (4634 m.), the second highest mountain in Europe, which dominates the Ossola valley.
Are places where you can practice mountaineering and skiing, but also walking and hiking, canoeing and kayaking, mountain biking, hang gliding and paragliding.
Piedmont Alps
Piedmont is the Italian region where there are more heights. The circle of the Piedmont Alps Alpine presented together with the points of maximum heights of less width in the Alps. Looking at the plain the Piedmont Alps, one gets the impression of facing an a steep rock wall that closes the skyline.
The Alps in Piedmont include: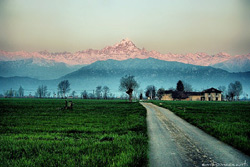 Alpes Maritimes
Cozie Alps
Graie Alps
Pennine Alps
Massive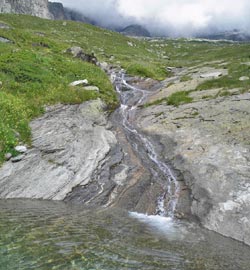 These are the main mass of Piedmont
Mercantour, straddling the French part of the Maritime Alps, Provence and the Alps of Piedmont.
Monviso, which with its distinctive triangular shape has offered the picture to Paramount Pictures in Hollywood.
Mont Blanc range of mountains in the Alps on the border between Graie Valle d'Aosta and the French Haute Savoie.
Gran Paradiso, the first protected area in Italy.
of Rocciamelone, in Val di Susa.
dell'Argentera, overlooking the Alps Maritimes.
Monte Rosa, on the border between Piedmont, Valle d'Aosta and Switzerland.
The highest mountains
Monte Rosa (4634 m.)
Gran Paradiso (4061 m)
Monviso (3841 m.)
D'Ambin (3377 m.)
Argentera (3297 m)
Mountain and sport