Hiking and trekking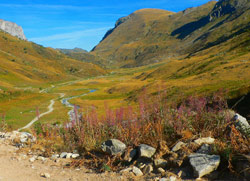 In the valleys of Piedmont tourists has several hiking opportunities ranging from challenging routes for enthusiasts and mountaineers, the simple tourist walks. Outdoor activities must be added the place of history and the chance to taste the products of the valleys.
Some tips:
Val Grana, you can reach Santuario di San Magno at 1700 m., by walking a mule and an easy path, situated in a context of great beauty. You can also taste the famous cheese DOP Castelmagno.
In Val d'Ossola, starting from Macugnaga, you can reach the 2,000 meters and found in front of the majestic spectacle of the massif of Monte Rosa. Here are the oldest shelter Alpine Hut Vincent (1785), and the highest refuge in Europe, the Capanna Margherita (4,554 m).
Val Grande is the extensive forests, canyons, steep cliffs and rare botanical species, in a wilderness where the protagonist is the chamois.

Val Vigezzo is known for its verdant plateau, alpine meadows and ancient paths of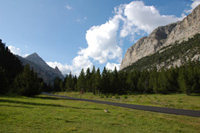 smuggling. It is also known as the "Valley of Painters", both peri its picturesque landscapes, and because it housed as many as seven in 800 schools of painting.
Paths of Val Chiusella offer visitors a glimpse of a little-known but very fascinating Piedmont. The valley has to offer, in addition to its peaks, including its lakes and streams. Very interesting are the works of man, like the stone bridges of the eighteenth century, or the many petroglyphs (such as those found along the "Path of Souls").

Alpine streams have spread more and more extreme water sports like canoeing, rafting,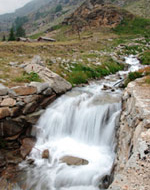 hydro-speed etc.. In particular, for those interested in kayaking or hydrospeed recommended areas of the Val Sesia (VC) or the Valle Stura (CN).
Also for fans of extreme sports, near Biella is the first Italian Bungee Center (1993).
In the Lake District of Verbano Cusio Ossola, Lake Maggiore, Orta and Mergozzo is possible to practice other water sports such as sailing, water skiing or windsurfing.
For lovers of hiking trails are well marked, crossing valleys and ravines evocative, often enriched by streams and waterfalls. Many of these trails are also open in mountain biking.
Mountain and sport