Skiing and winter sports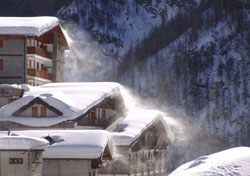 In Piedmont, you can choose from 53 ski resorts, each with as many tenders as required: from glaciers and ski off-piste for the more experienced the sweet and ample for beginners and children, to the cross-country skiing, which travel landscapes of incomparable beauty. Also you can discover the beauty of the Alpine valleys with their traditions of food and wine and typical products.
You can practice cross-country or Nordic skiing, where you are on a path or track on plan or on descent or ascent. For those interested in this sport, the capital of cross country skiing is the Stura Valley, the birthplace of the international champion Stefania Belmondo.
Besides skiing, are impractical in the winter resorts also sport Piedmont more adventurous, such as sled dog (the exit with sled dogs), l 'climbing on frozen waterfalls of the Valsesia, the free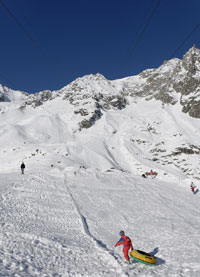 Riding (bicycle breathtaking run down the valleys), snowboarding el 'heli-skiing (skiing with helicopter transport, or in Valsesia Valsusa).
Here we offer a list of the most famous ski resort and winter sports, from Olympic valleys:
Olympic valleys: Bardonecchia, Cesana San Sicario, Claviere, Pian Neiretto, Pragelato, Prali, Sauze d'Oulx, Sestriere.
In Vercelli: Alagna Valsesia, Carcoforo, Rimasco, Riva Valdobbia, Scopello Alpe di Mera.
Near lakes and in the Alto Verbano: Alpe Severo Domobianca, Macugnaga, Mottarone, Pian di Sole, San Domenico, Valle Introna, Pomatt and Rial, Val Vigezzo.
In Cuneo: Bersezio Argentera, Artesina, baths Vinadio Bagnolo Rucas Piedmont, Chiusa Pesio Crissolo Entracque, beast, Frabosa Soprana, Garessio, Limone Piemonte, Lurisia, signs, Pian Munè, Pietraporzio, Prato Nevoso, San Giacomo di Roburent, Valle Varaita (Bellino, Pontechianale, Sampeyre, Valmala ) Vinadio and Aisone.
In Canavese and Valli di Lanzo: Val d'Ala, Val di Viù (Usseglio Benot Pian), Valchiusella, Valle Orco (Ceresole Reale), Val Grande (Chialamberto, Groscavallo).
In Biella Bielmonte and Oropa
In Monferrato: Caldirola.
For more information:
www.piemontefeel.org / en / sport-on-snow / index.php
Mountain and sport