The district of Asti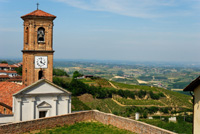 In the province of Asti are small towns. How to Nizza Monferrato, now a center for important and famous wine growing thistle hunchback, a fundamental ingredient of Bagna cauda, and Mombaruzzo pretty town famous for the production of macaroons. Moreover, the small town of Moncalvo, with its noble palaces, churches and numerous cultural events and food and wine. Two beautiful examples of Romanesque churches are located Montiglio Monferrato, in the parish of St. Lorenzo (XII sec.) And Cortazzone , In the parish church of San Secondo (XII century).. Albugnano is called the "roof of the Monferrato," because this country, located at 550 m, you can enjoy incredible views of the hills above the Alps there lies also the Romanesque church of S. Peter. Castelnuovo Don Bosco born in the nineteenth century several saints: St. John Bosco, Joseph Cafasso, Dominic Savio. We are the birthplace of Don Bosco and the Museum of country life. In the village of Viatosto rises instead a beautiful Romanesque-Gothic church (XIV sec.), with frescoes.
In the province of Asti you can visit several castles Piea, San Martino Alfieri with its magnificent nineteenth century building Castell'Alfero, Montiglio, Costigliole d'Asti, which within its fourteenth century castle is home to huge 's Institute for Italian cuisine foreigners, Then Cisterna d'Asti, a charming village with its fascinating Museum of Arts and Crafts of the past, reconstructing workshops and activities that will be lost.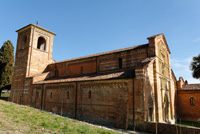 Albugnano is located at the magnificent abbey Vezzolano , In Romanesque-Gothic style, dating from the eleventh century. The complex are the church, cloister and chapter house. The church of the twelfth century, the facade of brick and sandstone. Inside you can admire a choir screen, pier marble of French rare in Italian churches, and a beautiful bas-relief of the thirteenth century, about two orders. Cloister instead contains a cycle of frescoes (XII-XIV century).
In the province of Asti finally found the spa Fons Salutis of garlic, with salt-water magnesium sulfur, indicated for the treatment of diseases of the digestive tract and liver.
The province of Asti