Cinema
"I could come and live in Turin where I planned an office on the top floor of the Mole Antonelliana, a location suitable for a director.
(Wim Wenders)
Turin and Piedmont have had since the early twentieth century a very important role in film culture, both within the production, over the years, that of film promotion through events and exhibitions. After the invention of the cinema in 1896 by the Lumiere brothers, Turin was one of the first stages of the 'film industry. Some of the films: "Cabiria" (1914), by Giovanni Pastrone; "The girls" (1955), by Michelangelo Antonioni, "War and Peace" (1955), by King Vidor. Some of the most recent: "The Second Time" (1995), Momma Calopresti; "The Way We Laughed" (1998), Gianni Amelio; "After Midnight" (2003), by Davide Ferrario.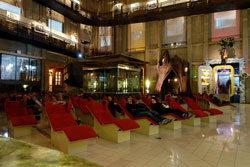 Turin is the city of cinema, with its interesting and fascinating Museo Nazionale del Cinema , Born in 1941 thanks to the collector Maria Adriana Prolo, located today in the impressive scenery of the Mole. Here you can trace the history of cinema and its genres, movies and actors more famous.
The museum is structured on four levels. We start with the 'archeology of cinema ", in whose halls you can see (and in some cases, try it!) Pre-cinematic optical equipment, magic lanterns, equipment cinematographic ancient and modern items from the sets of the first Italian film memorabilia and various national and international. The second level is devoted to the "cinema machine", where you know the different phases of a film. In the third level we find the "gallery of posters," while the fourth is the heart of the museum, the 'hall of the temple ", organized like a crown on which are ten chapels, each dedicated to a film genre. At the center of the Mole, on comfortable chaise longue, you can watch two movies on the silent cinema in Turin and a brief history of Italian cinema. The museum also has a library in constant expansion.
To offer its visitors the museum also has a dramatic panoramic lift, located in the center of the Mole, with transparent glass walls, which seems suspended in a vacuum. In 59 seconds the door without intermediate floors, from 10 meters starting with 85 meters of the "temple" of the Mole, which offers a wonderful view of the city.
The museum also hosts various events, including the Turin Film Festival, dedicated to Italian cinema was born in 1982 as a metropolitan festivals. This is the most important film festival in Italy after the Venice Film Festival.